Indian Patent Office's (IPO) growing popularity as International Search Authority (ISA)/ International Preliminary Examining Authority (IPEA)
The Controller General of Patents, Designs and Trademarks (CGPDTM) has published data this week on discernable trends of the number of PCT Applicants opting for the IPO as ISA and/or IPEA since 2013.
The number of search copies received by the ISA/IN per fiscal year has seen an increase from 123 (FY 2013-14) to 940 (FY 2016-17). Likewise the number of demands received by IPEA/IN per fiscal year has seen an increase from 11 (FY 2014-15) to 30 (FY 2016-17).
The data available reflects a seven-fold increase in the number of PCT applicants from India choosing IPO as ISA from FY 2013-14 to FY 2017-18.
The IPO's popularity as ISA/IPEA may be attributable to two reasons – the relatively lower official charges of the IPO; and the applicant becoming eligible for expedited examination of the corresponding national application for patent in India. The IPO has reportedly received 181 requests for expedited examination till October 31 through ISA/ IPEA route.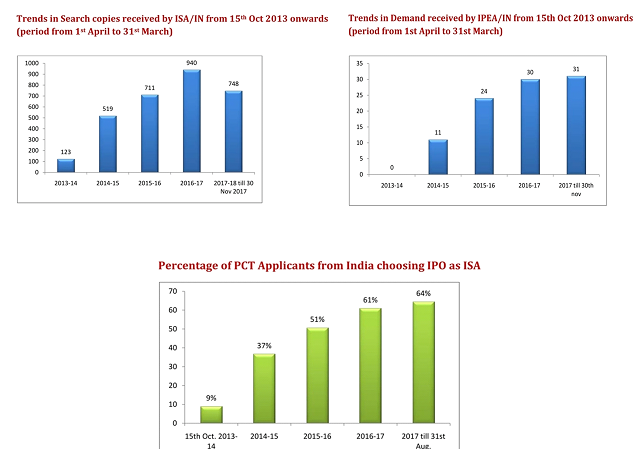 (Image from:- http://www.ipindia.nic.in/)