Mere Apprehension Of Launch Of Trademark Not Necessarily Premature For Invoking Jurisdiction
Author: Hardik Choudhary
In the matter of Allied Blenders and Distillers Pvt. Ltd. v. Agribiotech Industries Limited (ABIL) [I.A. No. 4397/2020 in CS(COMM) 166/2020], a Single Judge [C. Hari Shankar, J.] of the High Court of Delhi, vide its order dated October 15, 2020, granted an ad-interim injunction in favor of the Plaintiff.
The Plaintiff, a manufacturer of Indian Made Foreign Liquor, alleged trademark, trade label and copyright infringement in its "OFFICERS CHOICE" and "OFFICERS CHOICE BLUE" label by the Defendant. The Plaintiff contended that the label of the Defendant's bottle, "CHETAK WHISKEY" is deceptively similar to its label. The labels of both the parties are as follow: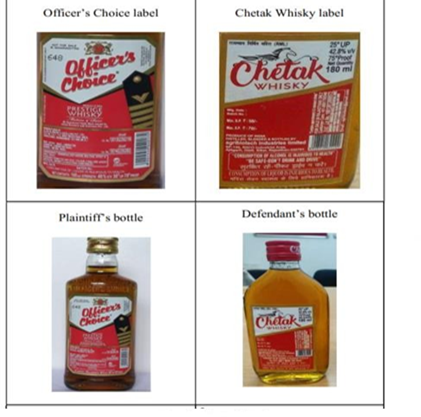 The Defendant contested the suit on the ground of territorial jurisdiction by arguing that the impugned product has not been launched in Delhi and the mere presence of a party at a particular location is insufficient to sustain jurisdiction. The Defendant further argued that in cases where jurisdiction is highly contested and debatable, the Court could not grant an ad- interim relief. The Plaintiff however, argued that both Plaintiff and Defendant carry on business in Delhi and it is apprehended that the Defendant will soon launch the impugned product in Delhi.
The Court decided in the favor of Plaintiff and held that, "this Court has, consistently, been holding that, in quia timet intellectual property actions, the mere apprehension of the likelihood of the defendant launching the allegedly infringing product within the territorial jurisdiction of this Court, would confer jurisdiction on this Court…".
Disclaimer: Views, opinions, interpretations are solely those of the author, not of the firm (ALG India Law Offices LLP) nor reflective thereof. Author submissions are not checked for plagiarism or any other aspect before being posted.
Copyright: ALG India Law Offices LLP.