Plea of trans-border spill-over of goodwill and reputation requires proof by positive evidence
The Supreme Court of India has affirmed the order of the Division Bench of the Delhi High Court, permitting use of the mark PRIUS by Prius Auto Industries Ltd in its December 17, 2017 judgement.
In 2009, Plaintiff ('Toyota' Jidosha Kabushiki Kaisha) sought an injunction against Defendant's (Prius Auto Industries Ltd. – 'PAI') use of the marks TOYOTA, TOYOTA INNOVA, TOYOTA Device and PRIUS. The Delhi High Court granted Toyota an injunction with respect to TOYOTA, TOYOTA INNOVA, TOYOTA Device, but not PRIUS, and Toyota consequently appealed to the Supreme Court.
PAI had been using the mark PRIUS since April 2001 for its automobile parts and accessories, and owned a trademark registration for

as of 2002.
Toyota had launched its hybrid car under the name PRIUS in multiple countries from 1997 onwards, and in India it launched in 2009. Toyota did not own any trademark registration for PRIUS in India, nor had it applied for registration of PRIUS in 2009 at the time the suit was instituted.
The Supreme Court dismissed Toyota's appeal, observing that "Positive evidence of spill over of reputation and goodwill of the Plaintiff's mark 'Prius' to the Indian market, prior to April, 2001, is absent…Indeed, the trade mark 'Prius' had undoubtedly acquired a great deal of goodwill in several other jurisdictions in the world…but…there must be adequate evidence to show that the plaintiff had acquired a substantial goodwill for its car under the brand name 'Prius' in the Indian market also…"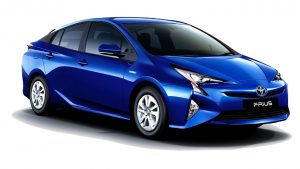 Image sourced from – https://www.google.co.in/imgres?